Impact
---
Events
INSTrUCT Poster at The International Conference on University Teaching and Innovation (CIDUI 2023)
Jul 2023
The INSTrUCT Project has been presented in The International Congress on University Teaching and Innovation that has been held in Lleida, Spain, the 4th, 5th and 6th July 2023.
This edition of the congress focused its attention on the need to find strategies to promote quality environments that will benefit greater personalisation and transversality in the education process.
The INSTrUCT team presented a poster titled "INSTrUCT: An innovative e-learning open educational resource for brief intervention in smoking".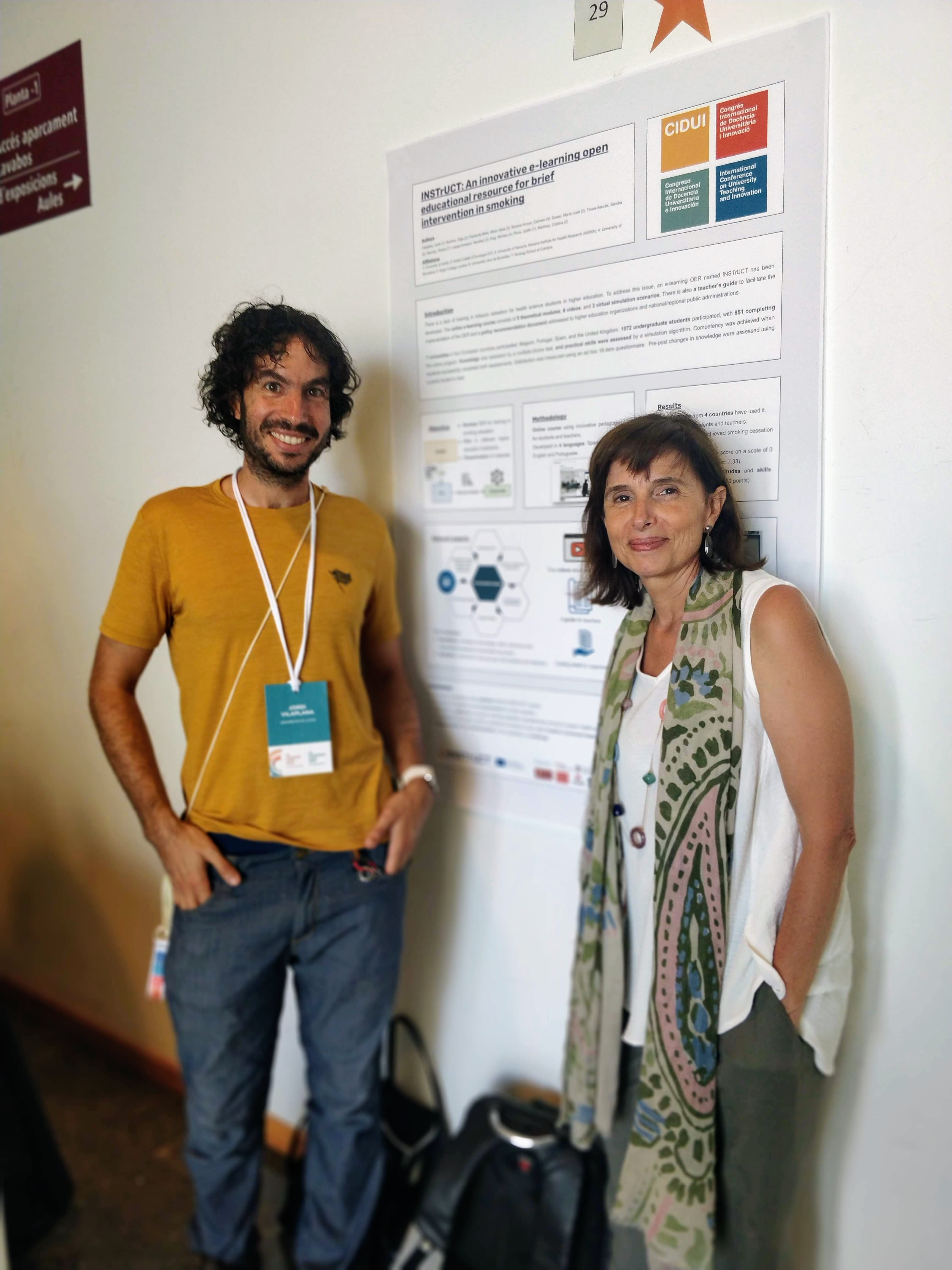 Dr. Judith Roca (UdL) and Dr. Jordi Vilaplana (UdL) at CIDUI 2023.
---
Public Launch of the INSTrUCT Programme
Nov 2022
Dear colleagues,
We have the pleasure of inviting you to the Public Launch of the INSTrUCT Programme, an "Innovative e-learning educational resource in smoking cessation" funded by ERASMUS+ from the European Commission.
INSTrUCT has successfully achieved an exciting number of outputs, which will be sharing our experience in an event in the afternoon of the 14th of December 2022, in Brussels (Eurocare Headquarters, Norway House: Rue Archimède 17, (Ground Floor) B-1000 Brussels-Belgium).
During this event, we will share our key results and the implementation strategies for disseminating the components of the INSTrUCT programme within the Higher Education setting in Europe.
AGENDA:
13:00-14:00
Closing Meeting Networking-Lunch
Networking with INSTrUCT Board Members and Attendees
14:00-14:40
Welcoming of the INSTrUCT Launching Event (15'):
Dr. Cristina Martínez. INSTrUCT Coordinator. Catalan Institute of Oncology
Ms Florence Berteletti, Eurocare
Dr. Oxana Domenti (WHO Representative in Brussels)
Prof. Florin MIhaltan (ENSP President)
INSTrUCT Open Educational Resource (15')
14:40-15:15
How to use the INSTrUCT OER? (15')
Experiences from teachers/students who have used it (7')
Implementation results and Policy Brief Document (15')
Questions and Answers (10') + Coffee served to attendees
15:15-16:30
The importance of tobacco cessation in the curricula of healthcare students

Dr. Enkeleint Aggelos Mechili. University of Albania
Dr. Lilia Olefir. Director. Smoke-Free Partnership
Dr. Silvia Gómez. YERUN - Young European Research Universities

Closing remarks & Farewell
---
MULTIPLIER EVENT
INSTrUCT Project "An open educational resource in Brief Intervention for smoking cessation"
Barcelona, October 2022
On October 7, the INSTrUCT project was presented, this is an open educational resource to train health science students in how to offer support in smoking cessation. This project led by the Catalan Institute of Oncology (ICO) and the University of Barcelona (UB) was held in a hybrid format, both face-to-face and online, with a total of 150 participants.
INSTrUCT is an online educational resource aimed at promoting smoking cessation knowledge and skills among higher education students in all Health Sciences Degrees. During the meeting, this educational resource was presented to professors from various universities, explaining INSTrUCT implementation and evaluation process at that moment, in which students, professors and researchers participated. Up to now, more than 1,000 students from various European universities have completed the course during its pilot phase. The universities involved are Coimbra School of Nursing (ESEnfC), the University of Barcelona (Spain), the University of Navarra (Spain), the University of Lleida (Spain), King's College London (United Kingdom), the Universite Libre de Bruxelles and the Erasmushogeschool Brussel (Belgium) and, the Catalan Institute of Oncology (Spain), coordinator of this consortium. This online educational resource is available in four languages ​​(English, French, Spanish and Portuguese).
The event was opened by the Vice-Rector for Teaching Policy, Dr. Conxita Amat, the Director of Public Health, Dr. Carmen Cabezas, and the Rector's delegate for bio-sanitary research, Ricardo Casaroli. They pointed out the need of introducing tobacco cessation education in the academic curriculum of future healthcare professionals during their educational years due to the important burden of morbidity and mortality that tobacco still causes in Europe.
At the closing ceremony, the Dean of the UB, Dr. Joan Guardia, emphasized the importance of carrying out collaborative projects between universities and research institutes that generate knowledge and promote health at the academic and population level.
Access to the recording of the act is posted on the following link:
This study was partially supported by the The INSTrUCT project (Reference: 2019-1-ES01-KA203-064496), funded in the framework of Erasmus+ programme (EU) with support from the European Commission and SEPIE